Heaven and Hell...
It's All in "Your" Mind
By Carl Bozeman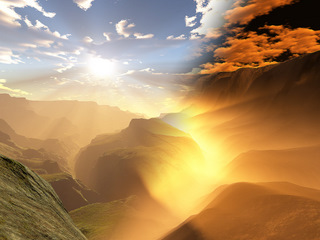 Ours is existence of duality, where heaven and hell are two sides to the same coin.
Heaven needs hell just as good needs evil.
For most of us, this duality defines our lives.
The idea of reincarnation is another attempt to explain the duality we exist in, in that we continue to return to a three dimensional life until we accomplish some objective or get right some aspect of our lives we needed in order to advance further.
---
Past, present, and future is an attempt to define, in three dimensional terms, the nature of our existence.
Time is our measure for the sequencing of our lives even though, in reality, we are infinite beings and time really has little or no actual value in defining our existence.
We continue on into eternity.
The reality of death and dying is a part of our physical existence, but it is only a small part when compared to the infinity we are a part of. See My Reflections of My Father.
Life after death and what happens to us in an afterlife is unimportant when we consider our infinite natures.

---
What are your thoughts on Heaven and Hell?
How do you feel about heaven and hell?

Do you see this as a duality?
What Other Visitors Have Said
Click below to see contributions from other visitors to this page...

---
Return to Spiritual Intuition home from Heaven and Hell page