Books to Read
By Carl Bozeman
Please bookmark this page and check back often, as I will continue to add books that I find especially inspiring and helpful.
---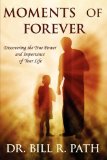 Moments of Forever: Discovering The True Power and Importance of Your Life A seekers guide; a true must read! Dr. Path's words glide off the page and float through the mind like a melody weaving their way into the fabric of the soul. His message is eloquent, almost poetic as He shares a rare but compelling glimpse into the soul of humanity.
Moments of Forever-Discovering the True Power and Importance of Your Life will lead you on a journey of self discovery that makes the essence of every single life lived whether past, present or future a significant and essential part of the human journey of existence. No matter how mundane, uninteresting or unglamorous you believe your life to be humanity is not whole without each and every one of us. What a profound message to a world in turmoil. Each of us is a page in the book of Forever and each page is essential in the telling of the incredible journey of Mankind.
To quote Dr. Path in Moments of Forever, "From the sweeping perspective of Forever, what we are, is ultimately more important than who we are." This book will make you look at yourself in new ways and place you squarely in the middle of... Forever.
Also, check out Bill Path's website.

---

Beginning Mindfulness: Learning the Way of Awareness - This book, by Andrew Weiss, is a good beginner's guide to meditation and will lead you carefully into establishing a good meditative practice.
---

The Law of Attraction: The Basics of the Teachings of Abraham - The teachings of Abraham, channeled through Esther Hicks, are always some of the most inspiring writings of modern times. The challenge of Abraham to find your place in the world and experience life more abundantly is a call to everyone to raise their vibration.


---

You Are That - These are perhaps some of the most revealing exercises in exposing our three dimensional attachments ever provided. Gangaji has a way of cutting through egocentric noise and setting us back on focusing on those things that are important. I strongly recommend these readings.
---

The Soul's Code: In Search of Character and Calling - This is a wonderful look at the innate character and uniqueness we come to this life with from a psychologist's point of view. Where James Hillman uses the term Daimon to explain what I say is God, in both cases, regardless of what it is called, the Daimon, or God, finds a way through all of life's experience to be what it is, in spite of environment, genetics or other factors considered responsible for shaping human identity. A must read!

---

Ramtha: The White Book - Another great read! Like Esther Hicks, J.D. Knight is a channel for the entity Ramtha, whose wisdom throughout the ages, over numerous incarnations, is uncanny and profound. Ramtha is a strong spokesman for the God-like nature we all possess.



---
The User Illusion: Cutting Consciousness Down to Size (Penguin Press Science) - Tor Norretranders' epic work is an in-depth study of the mind's ability to filter out most of what is going on in our reality. What is left in our consciousness is a very narrow view of our world. This is a technical work and sometimes difficult to understand, but is the best scientific study of consciousness I have ever read.

---

Journey To Ixtlan - The teachings of Don Juan Matus are some of the most profound and interesting ever put to words. No one describes more clearly how we must let go of our attachments to the things of this illusion in order to see the true wondrousness of the world we are a part of. This is a deeply compelling and inspiring book. I recommend all of Carlos Castaneda's works.
---

Conversations with God : An Uncommon Dialogue (Book 1) - This book is a gift in that it opens so many possibilities about the nature of God and our relationship to Him or Her. It is also a tribute to the divine nature of mankind and how we are creators of our own reality. A wonderful book!



---
The Power of Now: A Guide to Spiritual Enlightenment - It is difficult to describe the profound nature of this work by Eckhart Tolle. His explanation of the power of ego to take over control of our present moment is unique and clear. The egoic nature of mind shrouds our existence in unconsciousness. Silence the ego and increase your awareness. This is a powerful book!
---
What Books Have You Found Inspirational?
Have you found some other books that have helped lead to enlightenment?

What books inspire you?

Share them here!
Suggested Books by Others
Click below to see book suggestions from other visitors to this page...

---
Return to Spiritual Intuition Home Page